Meeting Minutes of June 2, 2020
The COVID-19 pandemic prevented the club from meeting in person. The June meeting was held via Zoom.
President Mike Metroka WB8BZK called the June 2020 meeting to order at 7:05 PM followed by the Pledge of Allegiance led by Dave Holmgren K9AT.
Board members present were John Dewey KA9CAR, Gary Dembski W9GD, Dean Hettel WD9FOO, Dan Larson KD9M, Mike Metroka WB8BZK, and Mike Salak KC9Q. Ralph Iden WB9ICF was unable to attend the meeting.
A total of 36 members were in attendance.
Approval of Minutes
There was no April 2020 meeting of the club, but the meeting minutes from the February 2020 meeting were previously posted to the MCWA website for review. John Cankar W9JM motioned to approve the minutes with John Dewey KA9CAR seconding the motion. The motion was approved by unanimous vote.
Membership and Financial Reports
Dean Hettel WD9FOO presented the membership and financial reports for May. As of May 31, 2020, MCWA has a membership of 119 members, 118 full members and 1 associate member.
May Finances
| | | |
| --- | --- | --- |
| Opening Balance | 6,837.85 | |
| Deposits | 50.00 | Dues |
| Expenditures | 21.00 | DigitalOcean website hosting (Jun-Sep) |
| | 207.57 | "Alternate Field Day" prizes |
| Interest | 0.05 | |
| Final Balance | 6,659.33 | |
A motion to approve the financial report was made by Dan Larson KD9M with a second by Joe Szczubelek K9DMV. The motion was approved by voice vote.
License updates
At the end of May, HRO hosted an in-person VE testing session where the following MCWA members obtained their license or upgraded their existing licenses.
Eric Padilla passed his Technician exam and is now KD9PLJ.
Dean Hettel WD9F00 has upgraded to Extra class.
Bill Wacaser KD9GIU upgraded to General and then to Extra!
In addition, Glenn KD9MGH, who recently upgraded to Extra class, has a new call sign, K9OK.
Congratulations to Eric, Dean, Bill, and Glenn. Well done.
Awards
Congratulations to Mike Metroka WB8BZK for his completion of 15m WAS, which also completes his 5-band WAS. Mike recently received a paper QSL from a 2016 West Virginia RTTY QSO that completed the 15m WAS award and is awaiting confirmation from ARRL HQ once they start processing their incoming mail.
Announcements
Nomination Committee
Jim McDonald N7US has been appointed the Nomination Committee Chairperson for this fall's election of MCWA officers and directors. Jim will be working with the two Directors at Large, Gary Dembski W9GD and Mike Salak KC9Q to develop a slate of candidates for the election.
As reported earlier, the committee will announce the slate of candidates at the August meeting with the election occurring at the September meeting. This change will provide time for the membership to consider the candidates and to offer additional nominations, if desired.
August VE Testing
The scheduled August VE testing in Woodstock has been canceled due to the COVID pandemic. The coordinators are investigating alternatives that provide a safe testing environment for everyone, but they have not yet found a practical solution to execute this type of session yet.
Upcoming events
Dave Whaley NT9E announced that the annual 13 Colonies Special Event is coming up July 1 -7, 2020. It is a fun event that a number of MCWA members have enjoyed in the past. More information is available at the 13 Colonies website (www.13colonies.us) or KU2US's QRZ page.
John Kalenowsky K9JK mentioned that the June VHF Contest will be coming up on June 13-15 from 1800 UTC Saturday through 0259 UTC on Monday. He added, "Microphones are still allowed on 6m, they haven't been banned.", a light-hearted reminder that besides FT8 and other digital modes, SSB, FM, and CW contacts are encouraged.
Hamfest/Conference Reports
All area hamfests and events have been canceled for May, with some events still scheduled for June. On June 13th, the Fox Cities ARC will be holding the Sunshine Hamfest in Kaukauna, WI. More information can be found at the FCARC website (fcarc.club/sunshineswap.php).
Heil Ham Radio Day, a free virtual event, was held Saturday, May 9th. No meeting attendees attended the event.
With Hamvention canceled this year, Contest University went virtual this year and was free. Over 2,000 people attended the day long event and the MCWA members who attended the event found it great and were very impressed with the topics and quality of the talks. The recording can be found by searching for "Contest University" on YouTube. The slide decks are found at the Contest University website (www.contestuniversity.com).
Hamradio 2.0 held their online YouTubers Hamfest 2020 on May 23rd featuring a number of interesting talks containing lots of good information. The videos can be viewed on Hamradio 2.0's YouTube channel.
Upcoming MCWA Presentations
Our members have enjoyed and learned much from our meeting programs because of the wealth of knowledge and experience of the presenters. Everyone has something to share that will benefit others. Would you consider sharing your knowledge and present a talk at an upcoming meeting?
July 7, 2020 – 6m Meteor Scatter Communications by Mike Metroka, WB8BZK
August 4, 2020 – So You'd Like To Run A Repeater – Hints & Tips by Ken Farver, KB9I
September 1, 2020 – Building & Testing the SATNOGS Rotor by Ralph Iden, WB9ICF & Officer and Board of Director election
October 6, 2020 – DXing by Jack Hudson, W9MU
Old Business
Field Day Report
Great news as Illinois has entered Phase 3 of the COVID recovery plan. This means that the club will be able to have Field Day at the Rush Creek Conservation Area, the site of the past two MCWA Field Days. The club will have two HF stations and a VHF station and will be operating SSB, CW, and Digital modes. .
Social distancing practices will be used at Rush Creek, which includes a limit of the number of participants on site at any one time. Operators should plan to bring their own headset, keyboards, etc. Gloves, wipes, soap & water, and disposable covers for keyboards and mice will be provided.
There will be a limit of 10 participants at any one time at the site. Dean Hettel WD9FOO will be handling registrations to ensure that the limit will not be exceeded. All are welcome, however no walk-ins will be allowed, so contact Dean to sign-up to let him know that you will be there.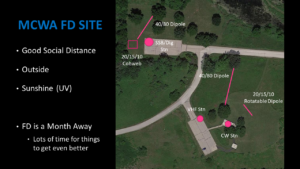 At the last meeting of the Board of Directors, the Board approved a Field Day budget of up to $750 and approved expenses up to $300. Any expenses above $300 requires membership approval.
A motion was made by Mike Metroka WB8BZK to approve the balance of the 2020 Field Day budget up to an additional $450 for total of $750, the amount the Board approved. Pierre Berube K9EYE seconded the motion and the motion passed unanimously.
MCWA Alternative Field Day Activity
The Board recognizes that not everyone will be comfortable with attending or be able to attend the Rush Creek in-person FD. Therefore, MCWA members will be able to operate Field Day from their homes, have their scores affiliated with the club, and have some friendly competition with prizes. Recognition will be given for all who join in on the fun.
The details of the various FD classes and rules were discussed as well as how to report your scores and let the ARRL know that your station is affiliated with MCWA. Mike will be sending out a follow-up email that covers the specifics.
Prizes will be awarded in each of the home station categories:
First place – MCWA embroided hat
Second place – ARRL Field Day mug
Third place – ARRL Field Day mug
Top finishers will also receive a certificate recognizing their achievement.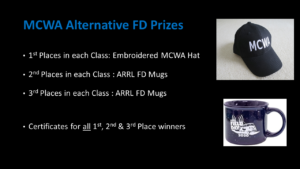 New Business
There was no new business.
Wrap up
The program for the evening will be "Inexpensive Test Equipment for Hams" presented by Gary Kaatz W9TD which will begin immediately following meeting adjournment.
The next regular meeting will another virtual Zoom meeting on Tuesday, July 7th 2020. Members watch your email for your meeting invitation. The meeting will open around 6:20 PM to allow new users to join and the meeting will commence at 6:30 PM.
A motion to adjourn was made by Dave Whaley NT9E and seconded by Mike Ophus KD9DLL. The motion was approved by voice vote and the meeting was adjourned at 7:51 PM.
Prepared by Ralph Iden WB9ICF, MCWA Secretary