Meeting Minutes of March 3, 2020
The March 2020 meeting was called to order by President Mike Metroka WB8BZK at 7:00 PM in the Crystal Lake Bank meeting room. The Pledge of Allegiance was led by Dave Holmgren K9AT.
Board members present were John Dewey KA9CAR, Gary Dembski W9GD, Dean Hettel WD9FOO, Ralph Iden WB9ICF, Dan Larson KD9M, and Mike Metroka WB8BZK.
A total of 45 people were in attendance including two guests, Joel Nelson W9NXM of Lake Zurich and Ron Smith KD9IPO of Villa Park.
Welcome to our new members Kermit Carlson W9XA and Paul Philip AC9O!
Approval of Minutes
The meeting minutes from the February 2020 meeting were previously posted to the MCWA website for review. A motion to approve the minutes was made by Ed Finnegan K9ECF and seconded by Kent Dulaney K9KMD. The motion was passed by voice vote.
Membership and Financial Reports
Treasurer Dean Hettel WD9FOO presented the membership and financial reports. As of February 29, 2020. MCWA has a membership of 120 full members, 2 associate members, and 9 family members for a total of 131.
| | | |
| --- | --- | --- |
| Opening Balance | 7,153.98 | |
| Deposits | 138.82 | Dues (less PayPal fees) |
| Expenditures | 237.04 | Microsoft Office for club laptop |
| Interest | 0.05 | |
| Final Balance | 7,055.81 | |
John Kalenowsky K9JK motioned to approve the financial report and was seconded by Mike Ricketts ND9G. The motion was carried by voice vote.
Annual Membership Dues
Membership dues for the upcoming year are $10 and are now payable. If you haven't yet renewed your membership, please contact our treasurer Dean Hettel WD9FOO to remit $10 using cash, check, or PayPal (as Friend).
Please note that any member who has not paid their 2020 dues will be removed from the roster in March.
Awards
Paul Philip AC9O earned DXCC (digital). Congratulations, Paul!
Announcements
Dale Szymkowski KU9G is now a recognized ARRL Volunteer Examiner and is enjoying his new role.
Harold Burt W9HB offered an Icom IC-2AT 2m handheld free of charge to anyone who could use it. The IC-2AT was a no-frills and rugged little radio.
ARRL Member Spotlight: Ed Finnegan K9ECF
Our very own Ed Finnegan K9ECF was featured in the ARRL Member Spotlight in the March 2020 edition of QST. The article contains a photograph of Ed and tells of his career as a military and commercial airplane pilot and his love of aviation and amateur radio.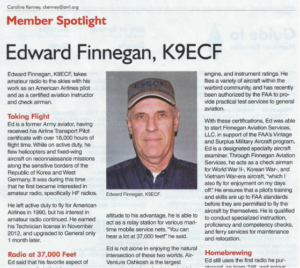 QST — March 2020
Be sure to read about Ed if you haven't already done so. Congratulations, Ed!
Boy Scout Update
One of the club's objectives was to continue community outreach and our relationship with Scouting. There will be no Blackhawk Camporee this year as it is a bi-annual event, with the next one occurring in 2021. At this point, there are no plans for a STEM Day like the one held at McHenry County College.
However, the club is in talks with the scout leaders about having a Radio or Electronics merit badge program.
Radio Merit Badge
Speaking of Scouting merit badges, on February 17th, Eagle Scout Tristan Sordelet from Troupe 657 in Cary, IL visited the shack of Mike Metroka WB8BZK to help complete the requirements of Tristan's Radio merit badge.
Besides reviewing Mike's station and going over the merit badge technical requirements, Tristan needed to spend at least ten minutes of on-the-air time making contacts. He had QSOs with amateurs from Cuba, Australia, Arizona, New Mexico, and Virginia.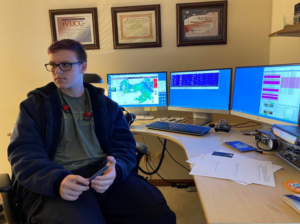 Congratulations, Tristan. We hope that you will get you ticket and join us on the air.
Hamfest/Conference Reports
No members attended the recent La Porte County hamfest.
Upcoming hamfests:
Sterling Rock Falls 60th Annual Hamfest sponsored by the Sterling Rock Falls Amateur Radio Society, March 8th at the Rock Falls Community Center.
JEFCARES Hamfest 2020 sponsored by the Tri-County ARC, March 15th at the Jefferson County Fairgrounds, Jefferson, WI.
MRAC/MAARS Swapfest presented by the Milwaukee Radio Amateurs' Club, April 4th at the Elk's Lodge, 5555 W. Good Hope Road (across from HRO).
Maker Faire opportunity
Mike Pecorini KD2RPE reminded the club of the upcoming Lake County Maker Faire on Saturday, April 25, 2020 at the College of Lake County in Grayslake.
This could be a good opportunity for community outreach and to showcase amateur radio. The club could set up demonstrations and activities like those at the previous Scouting Camporees.
A motion was made by John Kalenowsky K9JK to investigate participating at the Faire and for approving expenses up to $200 for the club to participate in the event. The motion was seconded by John Canker W9JM. The motion was passed by voice vote.
Mike KD9RPE will check into the possibility of the club's participation and Mike WB8BZK asked if there were other people interested in helping. Several members indicated interest in participating and Dennis Ryan KA9PUC and Ralph Iden WB9ICF definitely said they would help.
Upcoming MCWA Presentations
We have enjoyed some great programs already and more are coming up later over the next few months. Would you consider sharing your knowledge and present a talk at an upcoming meeting later this year?
April 7, 2020 – European SOTA & Friedrichshafen by Sevim Ablay WB8BHN
May 5th, 2020 – Building & Testing the SATNOGS Rotor by Mike Pecorini KD2RPE & Ralph Iden WB9ICF
June 2nd, 2020 – Inexpensive Test Equipment for Hams by Gary Kaatz W9TD
July 7th, 2020 – QSLing by John Cankar W9JM
August 4, 2020 – So You'd Like To Run A Repeater – Hints & Tips, Ken Farver KB9I
Old Business
Website News
After a final review by the Board and testing, Ralph Iden WB9ICF and Mike Pecorini KD2RPE report that the new MCWA website is live and ready to use at https://mcwa.org. A special thanks goes out to Dave Whaley NT9E for providing captions for the 200+ photos in the gallery. Ralph and Mike will be updating the descriptive text as time permits.
Field Day 2020 Update
Field Day chairperson Ken Field KO9H reports that the Field Day site has been obtained. The Rush Creek Conservation Area, the location of the past two MCWA Field Day events, has been secured. The site is located on the southeast side of Harvard offers a shelter house, a clean outhouse, and plenty of room for antennas. The club will be operating two HF stations and a VHF station using SSB, CW, and Digital modes.
The planning team consists of the following members:
Ken Field KO9H, Chairperson
Roger Scott KF9D, CW Station Captain
Dan Larson KD9M, SSB & Digital Station Captain
Mike Metroka WB8BZK, VHF Station Captain
Mike Ophus KD9DLL, Food and Refreshment Captain
Dean Hettel WD9FOO
Jack Hudson W9MU
Joe Szczubelek K9DMV
Planning meetings will continue on the 4th Tuesday of the month at Panera, 6000 Northwest Highway, Crystal Lake, IL. Gather at 6 PM with planning beginning at 6:30 PM.
Ken asked that any interested parties see him during the break to sign up to participate in Field Day.
New Business
A suggestion to record some or all of the presentations was made by Mike Pecorini KD2RPE. By recording the presentations, members who were unable to attend would have an opportunity to experience the presentation. The recordings could also showcase the club, potentially drawing in new members.
There was a discussion of the suggestion. Some thought that the recordings would give members who couldn't be there access to the program and help remote members feel more connected. It might even attract more members to the meetings. Others shared concerns about people not attending if they could view the recordings online.
Some presenters were reluctant or would refuse to be recorded for a number of reasons. They explained that sometimes the same or similar program would be given for another organization and by having a recording online, it could taking away value from the other organizations.
It was mentioned that other organizations record their presentations, but offer the presenters an option not to be recorded if that was their wish.
Another concern was the poor quality of the videos on the Internet and that presenters wouldn't want badly produced videos of their work available on the Internet. Producing high quality video would be costly and time consuming.
The Board had discussed recording the presentations previously and a concern about copyright infringement if a slide contained copyrighted material that wasn't cleared with the holder and the liability to the club if that occurred.
The matter will be taken up by the Board with Mike KD2RPE gathering information with Ralph's assistance.
Wrap up
An invitation to interested parties to gather later at The Cottage to enjoy eyeball QSOs and 1/2 price pizza was offered.
The evening's program, "ARRL Update" presented by Kermit Carlson W9XA will follow meeting adjournment.
The next regular meeting will be Tuesday, April 7th, 2020 in the Crystal Lake Bank meeting room. Doors open at 6:30 PM, with the meeting starting at 7:00 PM.
A motion to adjourn was made by Mike Pecorini KD2RPE and seconded by Harold Burt W9HB. The motion was approved by voice vote and the meeting was adjourned at 7:45 PM.
A detailed and informative ARRL update by Kermit commenced at 7:55 PM and was followed by a short Q&A session. The program ended at 9:33 PM.
Prepared by Ralph Iden WB9ICF, MCWA Secretary